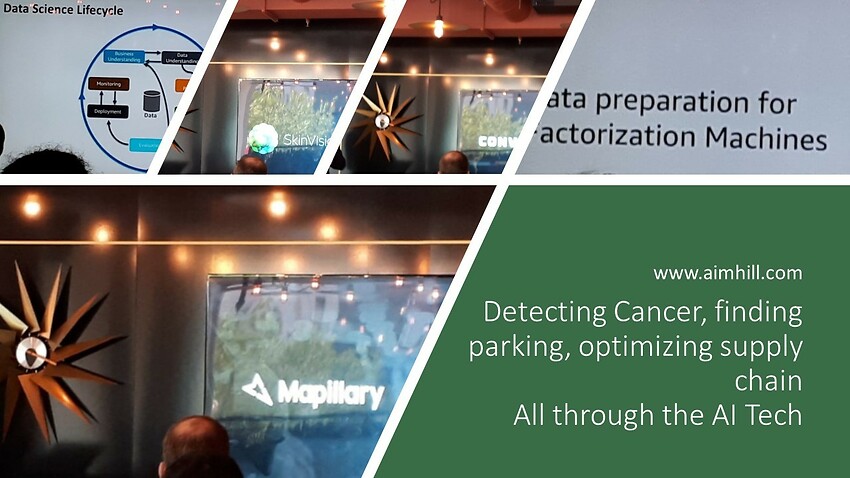 40% Digital Transformation Initiatives supported by AI in 2019
Already this year 40% of all digital initiatives are estimated to be supported by Artificial Intelligence (AI). This means that AI is not something that we will see in the future – because the future is already here - like you can see by this number calculated by IDC in 2018.
AI is already all around us and some services they provide us with today are:
• Helping users find parking (Mapillary)
• Detecting skin cancer (SkinVision)
• Optimizing Supply Chain Operations (Convoy)
• Answering your questions (customer services of e.g. large banks)
• Suggesting suitable products and services (SEM, search engine optimization tools)
Now, AI is merely the product of the technology referred to as Machine Learning (ML) i.e. the technology that is able to process the Big Data and other analytical input and make use of the output.
Yesterday I attended a ML and AI Lab event that was arranged by AWS/Amazon to try out and test some ML Lab scenarios of Data Discovery, Model Training and Deployment – using Amazone's SageMaker. In the hands-on Lab we trained and deployed a movie recommendation engine.
I have no intention of becoming a machine learning data programmer or data encoder or data hacker. However, I have been involved in global implementation projects of advanced and complex technology platforms during my years at OMX/Nasdaq Technology which gave me a general back-to-front knowledge of IT. So, for me to be a competent senior advisor and management consultant to the senior corporate managements of today's corporates – I at least see it as my business to have some in-depth knowledge of these technologies on the back end as well.
Like I often say; the future is already here – so these technologies are already all around us. And the last time you contacted an operator or a customer service center – are you sure that it was a human you talked to?
AimHill Consulting Group
www.aimhill.com