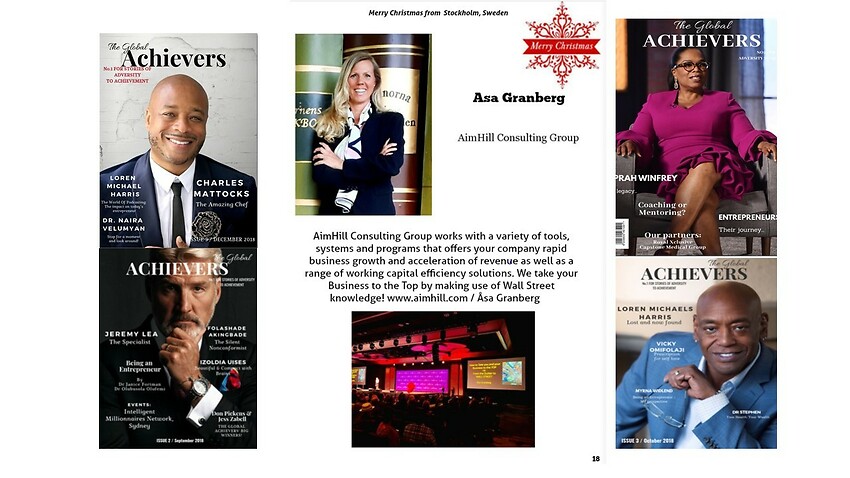 Christmas Card with a twist in the message…
I was invited by the international magazine "The Global Achievers" to send my Christmas wishes through their high class magazine. I immediately took this beautiful chance and felt honoured to be able send you all - as well as send all the readers of this global magazine; My very best wishes for a Very Merry Christmas to each and every one and to the whole world out there!
If you don't celebrate Christmas like many of the world's countries have no reason to do – then I would like you to receive this greeting like a greeting of Love and Peace and Harmony to all mankind!
I had additionally wished that I could have sent a picture of the partly funny and partly very beautiful Christmas show that my son was part of this morning at his school. Unfortunately, I cannot do that because it is prohibited to take pictures/photos of the Christmas Show and of the children on stage and in the audience at my sons school. My son goes to an international school and the photo-restriction is to protect children/parents living with "identity-protection" (like witness protection programs). So even at such a moment of Christmas atmosphere you are reminded of all the dark problems in our world.
This is photo-restriction is additionally a reminder of that the advanced technology that I like so much – can be used against mankind instead of for mankind where social media reveals people that has to escape and hide, as well as the face-recognition-technology that equally can be used to hurt instead of benefit people.
No one can save the world alone – but we can save the world together. What if we all make a promise to ourselves and to our fellow human beings – that we'll join forces towards the dark aspects of the world and bring light into the darkness during 2019. Together we can move mountains!
Have yourself a wonderful and beautiful end of 2018 and start of our mutual 2019. Please find my Christmas Card to you in the December edition of The Global Achievers Magazine on page 18. Love from me to you – where ever you are in the world!
www.aimhill.com
Webaddress to the magazine: https://newsstand.joomag.com/en/the-global-achievers-the-global-achievers-issue-5/0148203001544955111