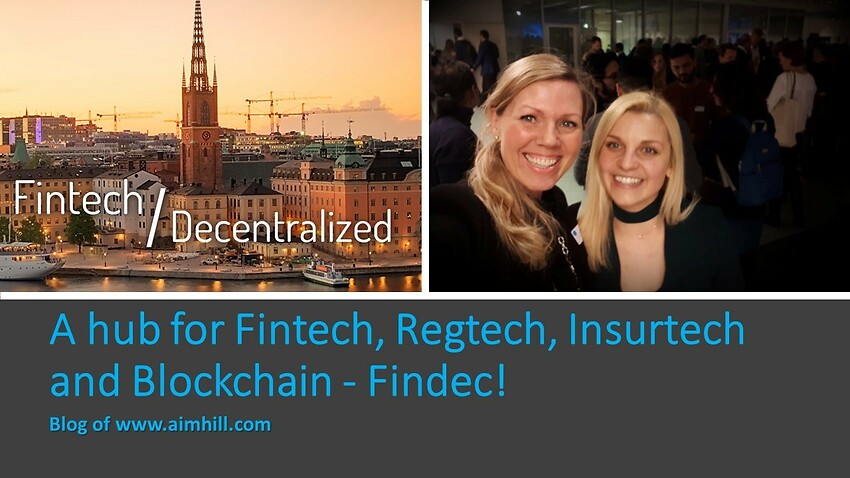 A hub for Fintech, Regtech, Insurtech and Blockchain!
With the mission to drive innovation and access to market, by assisting to build companies and attracting talent through network, knowledge and funding – Findec - was born.
Findec, is a non-profit foundation and a hub for fintech, regtech, insurtech and blockchain in Sweden that was started in October 2018. Findec is the place where the Swedish Fintech community can gather and grow to build the ecosystem stronger, facilitate access to corporates, investors and government, as well as, connecting the community.
They had their official launch event in Stockholm yesterday and I was there. I had a wonderful time and met amongst other people there; a CEO and co-founder of a Blockchain company that was a pioneer in the blockchain field since they started already 5 years ago and is now operating in 3 countries. I met the CTO of a Fintech company that had created a program that through financial algorithms assists aid organisations to help manage their financial risks in aid and sustainable development projects connected to FX-volatility by hedging and finding low FX-fees. I met the CEO and co-founder of a software company that simplifies board work and board meetings by streamlining reporting and providing secure document management.
I also met Lana Brandorn, who is in the picture with me. Lana works at Findec as community builder and was great at connecting the right people with each other at the Findec launch event.
As a Top Management Consultant, it is my job to stay well informed about innovations and technological progress – but I have to say that when I meet with enthusiastic and interesting people like I did yesterday at this Findec event, then my job is just plain fun.
Don't you just love technology – and people!
AimHill Consulting Group
www.aimhill.com