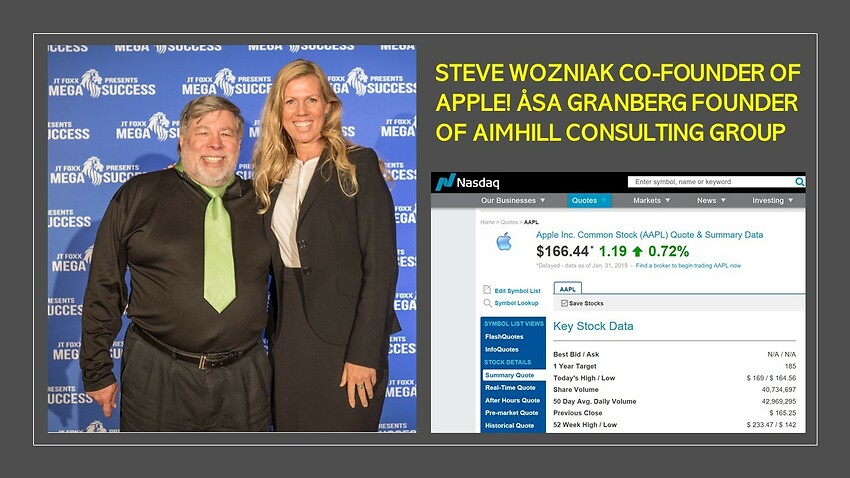 All businesses have periods when they need to struggle. Steve Wozniak, co-founder of Apple!
Steve Wozniak is a wonderful person who do a lot to support and encourage Entrepreneurs around the world. I listened to him at an Executive Business Conference in Stockholm on Thursday the 5th November 2015. Little did I know then that on the very same date Monday the 5th of November 3 years later in 2018 - I would meet him in person and share the same stage at a Business Event in Los Angeles.
Nobody has missed the recent news about Apple struggling with current Chinese competition. All businesses have times when they have to struggle. I have never met a successful Entrepreneur or CEO who have not had times when they have had to struggle. It is part of life in business and actually it is part of every person's life as well weather you are an entrepreneur, having a corporate career or working in public services. Success comes and goes, but the business or you as an individual will conquer in the end and come through the hard times as long as you don't give up – and – as long as you are open to change.
One of the key-secrets to beat the problems or issues, is to listen and learn from others. To never stop evolving and educating and informing yourself. Never sit down lean back and think that now you have enough knowledge. Because the world is in constant change. Would you like to go to a Doctor that has not been continuously educating and informing themselves about new studies and new medical technologies?
I learned a lot from listening to Steve Wozniak both on the 5th November 2015 and on the 5th November 2018! Here is one lesson I learned from Steve; "Always think about the End User experience". Steve used to love going with sales people to client meetings to sit there and take notes and listen to what the clients wanted solved and then translate it into a product or service.
When your Business is having a downturn or get stuck – get some assistance from the outside – because they come in with fresh eyes and you cannot see yourself with fresh eyes when you are in the middle of it.
AimHill Consulting Group
www.aimhill.com