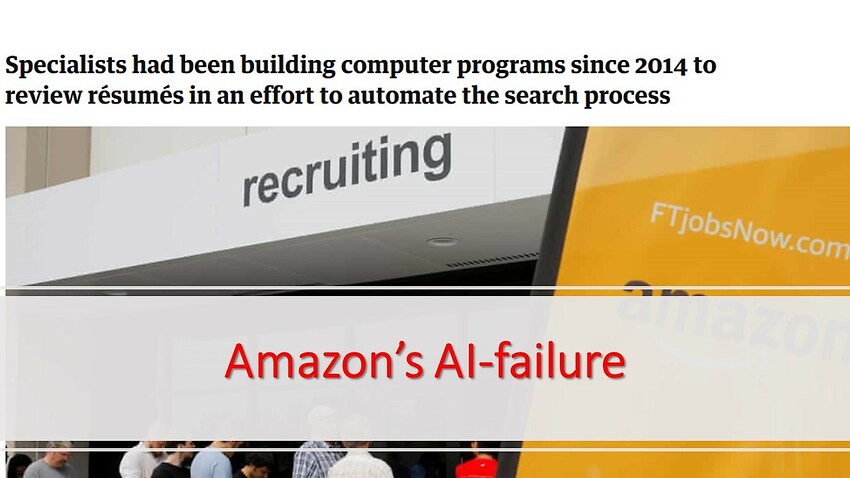 Don't repeat Amazon's Artificial Intelligence mistakes!
I very much like Artificial Intelligence and all the wonderful things that Advanced Technology can do for humankind. But we can never forget that AI is programmed with Big Data - which is basically statistics.
This means that the person who programmes an AI-machine should always be instructed with a modification of the Big Data used to configure the AI-machine before it is put into production. You as a company who is the AI/IT-Client must remember that unless you want history to "repeat itself" - then you cannot make use of the "raw" Big Data.
Instead you should give it the touch of improvement configurational features, that will let the future be better than the past.
AI as a tool for search of new employees, that Amazon intended to implement, can be a wonderful tool when it is programmed the correct way and could result in the companies having the best fit person in the right place completely disregarding any irrelevant features (like "gender" or "name" or "address" or any other extremely subjective criterion), but instead only regarding the personal features of whom will be the best person for a specific position that will assist the company achieve its goals.
I have faith that it can be a better AI-implementation the next time. The future can be better than the past.
The important thing is that you as the IT-Client understands how to think when you order your IT-implementation because the IT-distributor are great at the IT – and you as the Client have to be great at your business requirements. The Requirement Analysis Project is vital for a successful IT implementation.
AimHill Consulting Group can guide you during your AI/IT-project for a successful implementation.