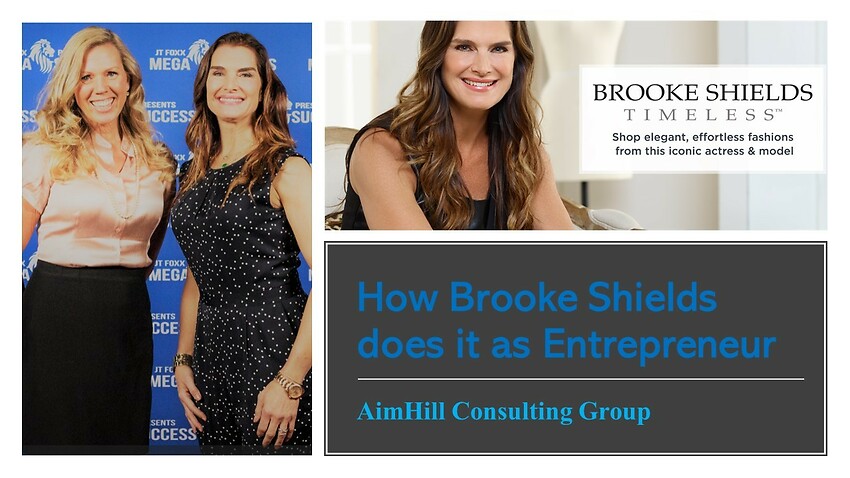 Did you know that 10 times award-winning actress Brooke Shields also is a very successful entrepreneur?
Brooke has the friendliest aura and a genuine smile. As soon as she says "hi" you just know that you could just sit down for hours and chat with her like you had known her for ages. She is one of those people that are beautiful inside and out.
She shares her up's and downs in life very openly and you learn so much from people that has these kind of genuine personalities – and feel how they do want you to learn from their life experience and struggles so that you can gain strength from their stories.
Everybody knows that Brooke is a world-famous actress and a model but maybe not everybody knows that she also is a successful entrepreneur?
When she decided to start her fashion collection, she says that she mixed her own personality and brain with the knowledge from the experts of the fashion industry. Brooke decided to sell her brand "Timeless" in co-operation with company "QVC" so you can find her collection on the QVC website. In her opinion it is a sign of strengths and not a weakness to ask for help which she did, and she also got some excellent "on the job training" when she first started out. But she also did a lot of her own "homework". Brooke doesn't like losing or failing but she says that if you don't keep putting yourself out there then you will never get anything either. Her way of coping with the natural feelings of fear and doubt and the unknown of being an entrepreneur is that she just runs towards whatever is scary – instead of running away from it. Brooke also fuels up her energy every week by doing something that gives her a "healing moment" like going to the gym or spending time with friends or playing with her children.
These are just some of all the wise words that I got from listening to Brooke talking about her entrepreneurial journey. I am so happy that I got to share it with you, and I hope you take inspiration from it on your journey.
Congratulations Brooke to your beautiful and Timeless fashion collection!
AimHill Consulting Group
www.aimhill.com