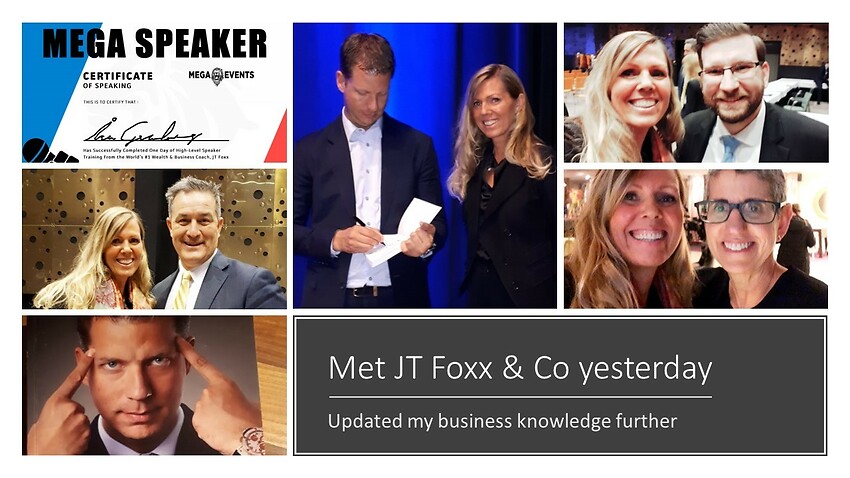 Yesterday I had the pleasure of being Certified by my business coach JT Foxx and his wonderful crew!
It was a full day from 9 am to 7 pm this Saturday that, as always, was packed with brand new updated content of business knowledge. I for example learned from JT about business Podcasts, setting up successful business events, sales-systems, requirements for business growth, international sales strategies, various business models and systems and branding in the new economy. JT brought with him some of his business coaches that rarely speaks at this kind of business coaching event, so I also learned a lot of content from them e.g. about Targeted Press releases, Web-analytics, Youtube-marketing as well as various branding strategies.
I am so happy that I am great at taking notes and I have 29 pages of new business knowledge in my notebook from yesterday! Furthermore, I got JT's business book and I was Certified by JT Foxx.
JT did an amazing job speaking the whole day despite having problems with his voice that disappeared for a while since he has been on tour speaking and his voice was "overworked". There are very few people that would push through in a similar situation – and this is something my business coach JT Foxx is famous for i.e. his enormous work ethics. There is nothing stopping him from delivering.
I am ready to execute and provide great consulting input to corporates out there to get their business into their future success.
Thank you coach JT Foxx & Co for everything!
AimHill Consulting Group
www.aimhill.com