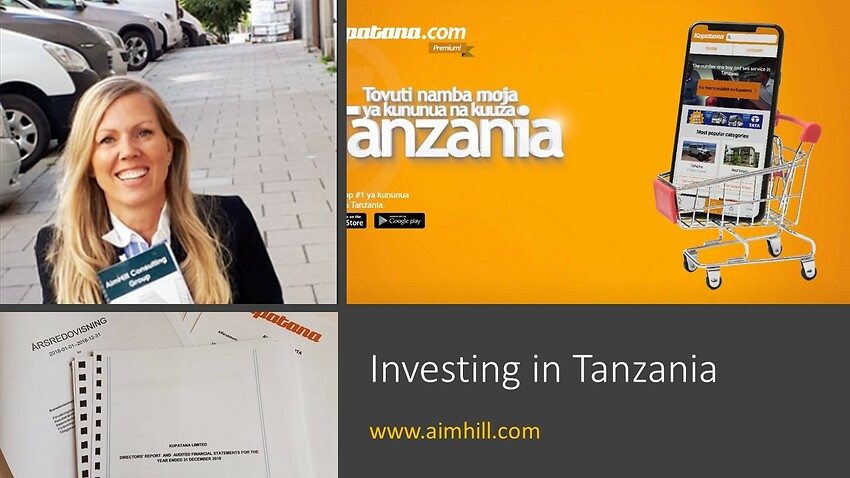 How to Invest in Africa
Today I attended the Annual General Meeting for a company that I recently invested in and that has the home market in Tanzania.
I often get questions regarding investment suggestions and what to think about when it comes to investing in different assets or in a new market or in emerging markets or new continents or new businesses etc.
My answer will always be the same as I have been saying ever since I started my financial services career at the Swedish Shareholders Association 23 years ago and later joined the Stockholm Exchange (now Nasdaq Nordic Exchanges) – and that is the following:
1. Never ever invest money that you cannot afford to lose. Capital markets and investments are also known as "risk capital markets". The "risk" implies that the money is at risk and that you can lose them. There is always a risk – even in large corporates – that something happens that is unknown or unforeseen that might make the corporate go bankrupt and the connected security (e.g. stock or bond) become worthless. Even money in a bank account is at risk so you need to spread your liquidity with different banks as well if you have a lot of cash.
2. When you enter a new investment and feel insecure - start with a minor investment that you more or less consider to be "learning-money" and that you will not be terribly sad if nothing of that investment comes back. When you start feeling more comfortable with your knowledge of the new investment (new corporate or new industry or new market etc) then you can increase your share of the investment.
3. You must have the interest and time to keep track of the industry and the market and of the world economy in general since everything is deeply connected one way or the other. If you don't have the interest or time to keep track of and understand the economy and the industry and what goes on with your investments – then skip direct investments and invest through an asset manager instead.
And the most important advice of all – is that you must have a strong believe in the business idea behind the asset that you are investing in.
My investment in the company with Tanzania as home market, origins from me spending time with Tanzanian people and government representatives and listening to presentations of the development of both Tanzania and the EAC region (East Africa Community) and thinking that a services that connects byers and sellers of second hand goods (but also a digital/mobile App for first hand goods and services) would be of great benefit to Tanzania both due to "second hand/re-use" of products being a good thing for the environment but also since the percentage growth of mobile users have increased substantially in a very short time in Tanzania – made me want to be part of this company's business purpose.
Please feel free to contact me if you have questions.
AimHill Consulting Group
www.aimhill.com