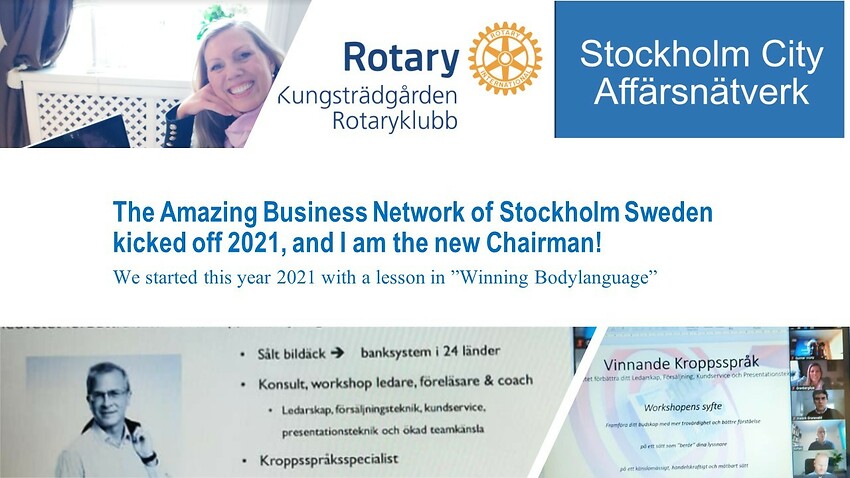 I am truly honoured!
The Rotary Business Network of Stockholm City in Sweden's Capitol, kicked off the year 2021 last week and I am truly honoured to have been appointed Chairman of the Network.
We will continue our meetings in digital format while the pandemic is still ongoing. However, we now have established good routines and a practical agenda for conducting the network meetings on-line.
Winning Body Language: We started off this year with a great topic regarding how your body language can influence the outcome of your meetings and businesses (consciously or not). This is especially important now that we normally only present ourselves in "half" person on a digital screen. We learned for example that the body will express itself using only the part you can see. So, our face and upper body will demonstrate what we are really thinking to all who are watching, whether we are aware of it or not.
Kurt Larsson, from Expanding Understanding, who is an expert in this topic of "a successful body language" and who has written books in this subject, available on Bookboon.com, was an enthusiastic guest speaker who shared his extensive experience to us listeners. He provided valuable and practical examples that were really appreciated by us attendees and he received happy comments after his presentation. If you are interested in this topic then you can find Kurt at: www.expandingu.com, or you can read his books for free at: https://bookboon.com.
Everyone seemed very happy to have kicked off our network meetings again, and it was wonderful to see both familiar faces and new participants. We concluded the meeting with a networking mingle where the participants presented themselves to each other and were encouraged to further connect.
I am so much looking forward to our next network meeting that will take place on-line in March, Welcome!
AimHill Consulting Group
www.aimhill.com