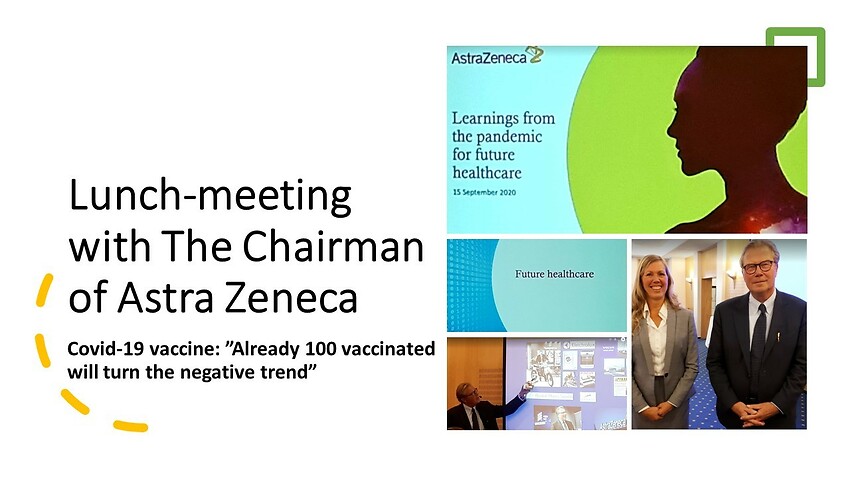 Chairman of Astra Zeneca: "Amazing Tech-developments for tailored treatments and the resumed covid-19 vaccine study"
The above and much more information was provided by Leif Johansson, the Chairman of Astra Zeneca, on a covid-compliant lunch meeting with just a few of us attending, at the Grand Hotel in Stockholm this Tuesday the 15th September.
Leif has an impressive background as an international businessman and industrial leader from Sweden where he e.g. has been the CEO of Volvo Group, CEO of Electrolux, Chairman of Ericsson and now Chairman of the world's fastest growing large-cap Pharmaceutical company Astra Zeneca. Astra Zeneca has approximately 70 000 employees and deep roots in UK and Sweden. Astra Zeneca has recently had a major spotlight in the news since they are already in the so-called phase 3 of a study for the covid-19 vaccine, i.e. the final stage of vaccine development before offering it to the public.
Leif understood the curiosity on our minds at the lunch meeting, so he quickly provided us with the following information: The vaccine origins from Oxford University whom AstraZeneca has partnered with to accelerate the development, manufacturing and distribution of the potential vaccine. Agreements have been signed with many nations, regions and global organisations with a current global supply capacity of close to 3 billion doses that AstraZeneca will deliver at no profit during the pandemic He also mentioned that the recently paused study was just resumed a couple of days ago following confirmation by the Medicines Health Regulatory Authority (MHRA) in the UK that it was safe to do so.
Leif further painted a very interesting picture of how technology, artificial intelligence and digitalisation will be beneficial for humans and the capacity to store big data jointly with the AI-tools will make it possible for medical treatments to be tailored, and diagnosis well analysed, in the future. He mentioned e.g. that we are moving from traditional pills with as little as 20 atoms in a molecule to new biologic treatments that comprise of 250.000 atoms.
I asked Leif if he predicted that Astra Zeneca would undergo the same technological evolution that e.g. banks are currently undergoing so that they would within the next decade become an IT-company, and if so, would they buy technology or would they develop inhouse solutions e.g. due to security of information records. Leif responded that since they store anonymous data, they are likely to purchase IT-services from external tech-providers e.g. a large capacity of cloud data storage - rather than becoming a tech-development corporate.
Leif has the talent for explaining the work of his Astra Zeneca in a clear and understandable matter and we learned a lot during the lunch. Happy news, what we learned is that already after having vaccinated 100 people you start seeing a reduction in a population's virus-spread-curve. Good news for the world!
AimHill Consulting Group
www.aimhill.com