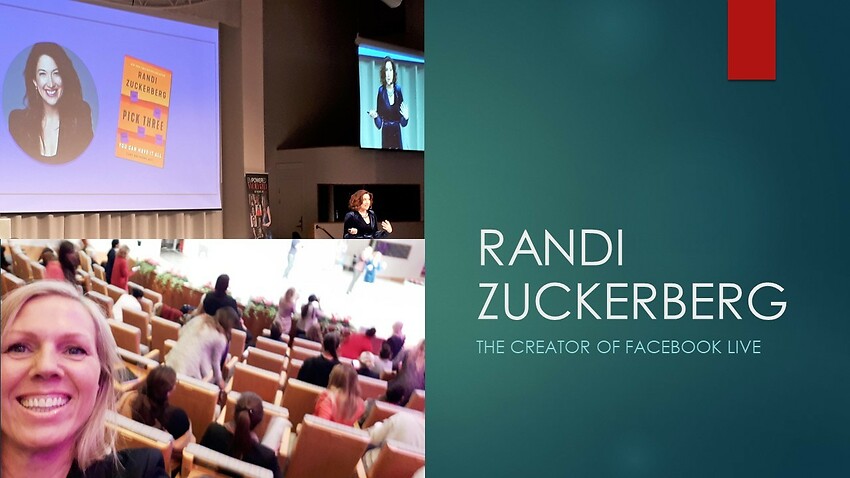 It takes 15 failures to get one success!
Randi Zuckerberg is the founder and CEO of Zuckerberg Media which is a production- and marketing company working with the Fortune 500 Companies. Randi additionally is an Entrepreneur, Investor, Best Selling Author and Tech Media personality and the sister of the Facebook founder Mark Zuckerberg.
Saturday morning, I was ready to listen to Randi talk about various topics related to being an entrepreneur.
Randi shared her story on how she left New York city to go to Silicon Valley as one of the first executive to start up and build Facebook. She described the Facebook journey which, just like basically all entrepreneur journeys, started out with a team of a few people building on a vision to create something and having ups and downs but never giving up. Finally, things started to happen, and more and more people saw the benefit of Facebook – and the rest is history. Randi talked about how Facebook started to arrange "hackathon's" where they would gather and invite engineers to stay up all night jointly with Facebooks own staff to create a working product or prototype from scratch and to brainstorm any and all ideas. All ideas are allowed during a hackathon without anyone shooting an idea down – which means that late at night some really "different" ideas sometimes come up. Facebook still arrange these hackathons event.
It was during one of those Hackathons that Randi came up with the idea to start Facebook Live. Nobody believed in her idea and she said that it only had 2 viewers at first; her mom and dad. But then suddenly Katy Perry's agent called and wanted Katy Perry to launch her new single on Facebook Live – and then it took off and after 4 months Obama wanted to use Facebook Live as a new tool to communicate through. Now Facebook Live is available for 2 billion people all over the World. The conclusion is that if you have an idea – then keep working with that idea if you believe in it – because even if nobody else see what you do it doesn't mean that your idea shouldn't become a reality. Once you have made your idea real and available to others, then they might start seeing the benefit of your idea which they could not see before it was a real prototype.
Randi also talked about work-life balance by stating that there is none. If you think about the times when you have achieved your biggest goals in life – those times you most likely did not have "well-balanced" work-life. I can very much concur with that statement. Randi has even written a book in the subject of us not being able to balance it all in life. She calls her book "PICK THREE" – which means that we only have 24 hours in a day and we do need to eat in order to stay alive – but apart from eating there are 5 basic elements in life which are; work, sleep, family, fitness and friends. Randi means that you cannot do all these five and be great at them all at the same time – not with 24 hours per day. So, she concludes that you have to pick three of these five areas and work with them and then you can alternate the three areas out of the five during different periods of your life. She has small children and work, so she currently has two of the five elements already covered which means that she has one more element that she can alternate between at this time; fitness or sleep or friends. Randi has not seen her friends in years because she tries to alternate between fitness and sleep currently. She says that the best times are when you can combine two or more of these five elements like go to the gym with friends etc. Don't we all recognize ourselves in these life-puzzles issues…
Randi had many more extremely interesting topics; amongst other things that she works actively in projects that encourages girls to get into the tech industry. Around the age of 9 many girls get into gender stereotypes and lose their interest in e.g. technology since they at this age form a believe that technology is for boys. Randi has created a cartoon-girl named "Dot" that exist both in book-version and as an animated television show by the same name, which shows on NBC Universal, CBC, Hulu, and dozens of networks worldwide. "Dot" is the animated girl that aims to inspire young girls to stay interested in technology.
One wonderful statement Randi gave during the seminar was that it normally takes about 15 failures for one success to come true. Take this as a great comfort from a very experienced entrepreneur like Randi Zuckerberg. If you are experiencing a "failure" right now - that is just normal - and you can have 14 more failures, but at the end you will have a wonderful success that makes all of the 15 failures worthwhile. Like Randi say to encourage people to dare becoming entrepreneurs; "even during my worst day as an entrepreneur – that day still is better than my best day as an employee".
So, if you are out there and you have a dream – take a leap of faith and make the jump!