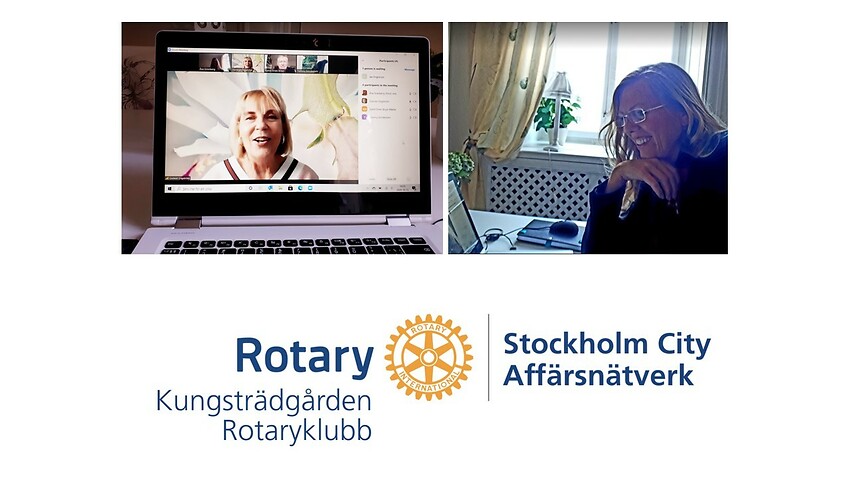 We had Gunvor as guest speaker!
Last week I hosted the Rotary Stockholm City Business Network event. As often in these covid-19 times, we had the network meeting on-line. This time I had the pleasure of having one of my friends; the lovely and successful Gunvor Engström, as our speaker-guest.
Gunvor, is a very energizing, very competent and positive person who has held a long range of executive positions e.g. she has been on a Swedish government office, she has been CEO of a bank, she has been Chairman of the Board at The Swedish Board Academy, as well as CEO at The Swedish Federation of Business Owners just to mention a few of her assignments. Gunvor is currently working as Board-member-coach and as board professional.
This time I asked Gunvor to tell us a bit about how she has built her career so the audience could take inspiration from her career journey. And what a great topic this was. Gunvor gave us many wise thoughts about how to work your way up the career path. E.g. she said that there are trends in what is considered an attractive CV – e.g. some people think it is good that you remain in one position or in one company for multiple years whereas other consider it better if you have done many different things so you have a wide and broad experience – this is why the best you can do is to just be yourself and at some stage you will be having the "right" candidate profile. Also you should never be afraid to try new things and one of her strongest advices, according to her closing remarks, is that you should hire the best and most talented staff and don't be afraid if they are more senior and competent than you are. With the most competent staff you will succeed!
What an energizing event we had, and we so much look forward to seeing Gunvor at one of our future events. To thank her for her appearance as guest-speaker, Rotary donated 40 Polio vaccinations in her name – under Rotary's program "End Polio Now".
If you are curious about Gunvor Engström, then you can follow her on her blog; https://gunvorengstrom.se/blogg/. And if you are curious about the Stockholm City Rotary Business Network, then you are most welcome to contacting me.
AimHill Consulting Group
www.aimhill.com