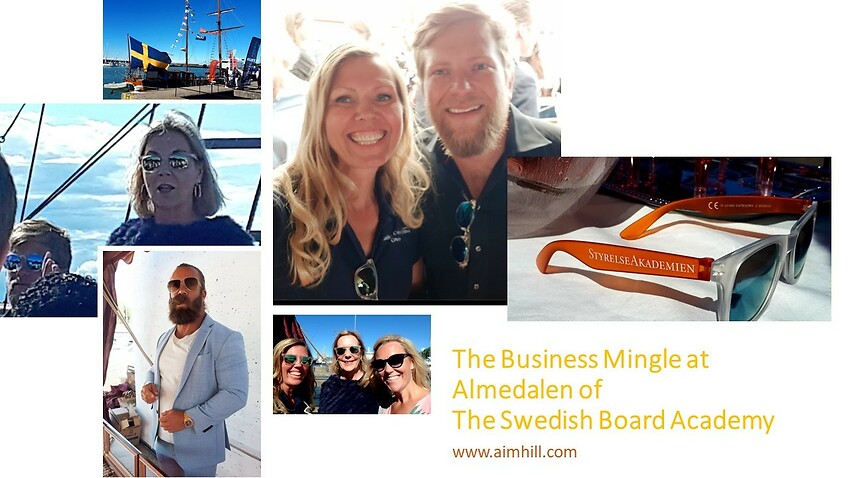 The Business Mingle of the Summer
That's how I remember it when I found the sunglasses in one of my bags that was a gift at the entrance of the event (the sunglasses you see in the picture where it says "Styrelseakademien" which is Swedish and means "The Board Academy").
It was one of the nicest sunny days of July at a quay in the city of Visby at the Swedish Island named Gotland, and it was during the most important week called "The week of Almedalen" where all Swedish politicians and the PR, press/media, corporates/banks, consultancy firms and organisations come together to speak, mingle and discuss the future of Sweden and the future of the World.
I was there during this week and I had the pleasure of being invited to the mingle of The Swedish Board Academy. A surprise was that it was a joint mingle with the newly established business network called "KURT".
I had a fun and wonderful time with the energizing crowd and talked to some fantastic people amongst others; Gunvor Engström (Chairman of The Board Academy), Charlotte Gustavsson (CEO of The Board Academy), Johan Petrén (Founder of the well-known event company Petré Event & PR and also one of the founders of "KURT"), Jan Emanuel Johansson (a well known Entrepreneur and Politician and also part of "KURT") and lots and lots of smart and positive people from the two networks.
Now, some people ask me about why mingles are important – and mingles are truly of great importance because that is often where the new deals and partnerships and businesses are initiated. It has always been like that but now as the world becomes digital and on-line – the mingles and networking is more important than ever; because you don't do larger business negotiations with a computer or a machine programmed with Digital Artificial Intelligence algorithms – you do the bigger businesses and major deals with humans and business is built on trust between people - people that you meet for example at business mingles.
So, if you are invited to a business mingle – say YES! I hope you will have fun there and meet with quality people – just like I had the opportunity to do during The Week of Almedalen and at The Board Academy mingle.
AimHill Consulting Group
www.aimhill.com