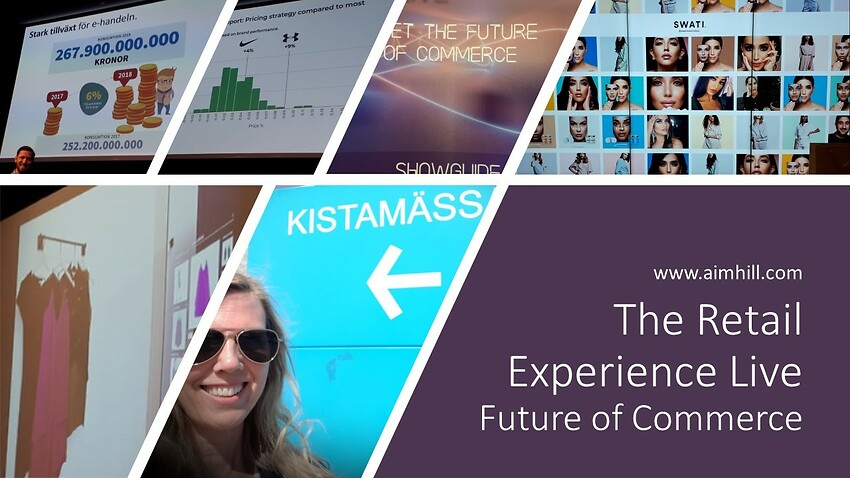 The Future of Commerce 2019
Visiting the Retail Experience Live Exhibition really gave some taste of the future of commerce.
Or how about:
• Interactive mirrors; e.g. in the dressing room – assisting you with getting the right size and colour, or giving you instructions of how to put on make up, or why not attract clients and enhancing the shopping experience like H&M do with the "Selfie-Mirror" where you take your picture and it looks like you are on the front cover of H&M's Fashion Magazine and then you can down load the picture and send it to your social media.
• Having a robot assisting you or your clients in a store e.g. with information and directions (if it can hear what you say through the noise).
• Or displaying your products with a sensor underneath them so when a client pic up the product e.g. a fragrance then a commercial with music and pictures starts playing in front of the client to stimulate more senses then just the smell.

The above are just a few examples of what was on the role out for future commerce.
The e-commerce is completely exploding to a value of 267.900.000.000 SEK in 2018. There are more and more talks about the stores becoming a show room where you try and order your products and the products are then distributed to your home. In the US market they are trying new grocery stores without staff where you check in as you enter the store with and App, then the store monitors what you pic up, and then when you leave the store all is debited directly in your phone/App with instant payments and receipts without you having to do anything.
So much is going on and as always – The Future Is Already Here!
AimHill Consulting Group
www.aimhill.com